Robin's Arrow
For Sale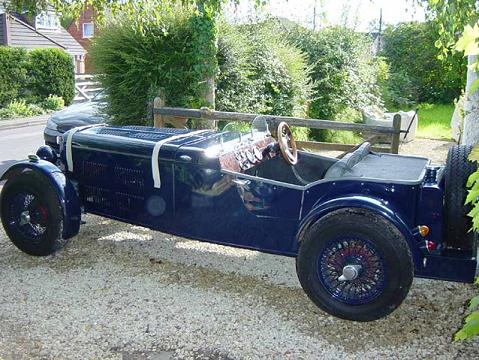 Owners Notes
Burlington Arrow
YRF 804 H
This Arrow was built by Robin Clarkson between 1986 and 1990.
She was completed in 1990 and has travelled 500 miles during 1990. She has since been stored at my parents since then due to lack of garaging.
She is in great condition, but needs a little bit of TLC to restore her to her former glory. Can be seen running, but needs new brake cylinder seals before venturing out at speed!
The running gear was from a Bond Equipe, which in turn used the Vittesse straight six engine and four speed gearbox.
Both the engine and gearbox were rebuilt by me with great care and have only done 500 miles. All bearings and synchros etc were replaced as a matter of course.
The chassis was built from the Burlington plans and the chassis plate was transferred to it. The DVLC approved and inspected and hence we ended up with the original registration mark (No tax!)
She has grey leather seats and grey carpet, which combined with the blue body make her a stunner.
15" wire wheels painted to the body colour, these and the tyres alone cost £1500.00 when I built her.
There are also some spare bits (nuts, bolts, leather offcuts etc) which will go with her.
Sadly to be sold due to lack of time to get roadworthy again.
£2800.00 ono.
I need to sell her within the next 4 weeks due to moving house. If that does not happen, then I may keep her as I will have to transport her to the new property.
Robin Clarkson
02380 292411
0207 287 1410
07889 035270
robin@katswiskas.com